ORTIS is a robotic milling system able to produce any type of model necessary to create custom orthoses and prosthesis, leg-foot braces, scoliosis treatment corsets, foam aesthetic covers, orthopedic seats, prosthesis sockets, cranial correction helmets.
ORTIS™ Enterprise is the configuration that allows to reach the maximum productivity (average daily production of 20 models and more) without limitations or compromises on the working area (1200x1200x1800 mm).
ORTIS™ Enterprise is installed on an industrial floor with walls and partitions that delimit its access area; the features of this configuration will allow you to work in the most automated and efficient way.
The installation includes the robot (maximum reach over 2 meters), the turntable, the toolbox (up to 10 tool positions) and the presetting laser; the distinctive feature of this system is a powerfull electro spindle with the automatic tool change.
System Programming
A license of our ARPP® software ships with the system. ARPP® is powered by 5-axis a tool path generator (ARPPCAM), and allows for a precise ahead-of-time 3D simulation of the milling and material removal process.
Open System
ORTIS can be used with any 3D scanner or software that makes use of industry-standard formats (STL, AOP, VRML, …).
Robot type: ABB, 6 axes, 40-60 kg payload on the wrist, working area from 2000 to 2500 mm
Turntable: In-house designed, it is the 7th interpolated axis. 700×700 mm aluminum working plate, 60 rpm (Possibility to have an additional turntable or fixed table to increase productivity).
Laser calibration: The standard setup includes a laser guide to perform automatic tool length calibration.
Working volume: Blocks up to 1200x1200x1800 mm. Possibility to expand the the supporting plate for bigger blocks.
Compressed air
Minimum 6 bar
System minimum area: 4000x4000x3000 mm
Contol unit area: 1000x1000x2000 mm.
Weight: Robot + base : 650 kg, Turntable: 270 kg
Control unit: 250 kg, Toolbox: 280 kg
Power supply: 380VAC three phase, 50-60Hz, 15 KVA
(5,5 kw kw average consumption)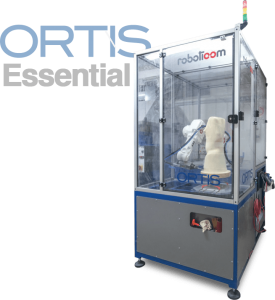 ORTIS™ Essential
Essential need of any small to medium size fabrication shop.Working area of 24x24x40 in. Enclosed system to control dust and noise, Small footprint.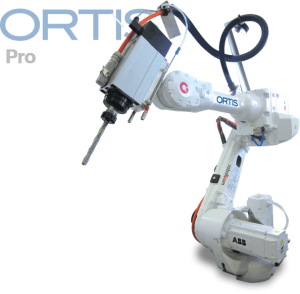 ORTIS™ Professional
Intermediate configuration for an average production of 10-15 models per day. Working area of 48x48x71in. Standard as well as customized configurations available.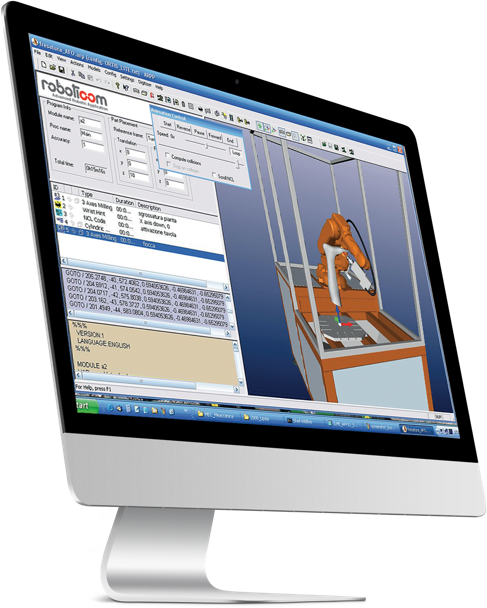 ARPP® is the in-house robot simulator. It is the easiest and most powerful software on the market that allows you to completely manage the robot without the use of any other additional software.
ARPP® owns CAM functionalities that generate optimized tool paths for artistic works. This unique solution ensures a quick learning time and provides simple procedures for the technicians.
Sanding
Polishing
Cutting
Carving
Drilling
Trimming
Sculpting
Industry News
Roboticom Blog